Torre Picotta (Tolmezzo)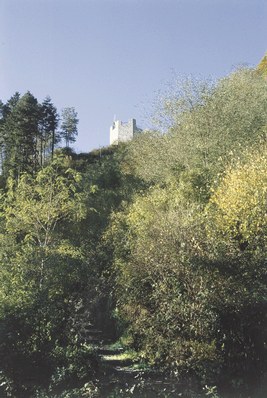 The village of Tolmezzo was granted market status in 1258 by Patriarch Gregorio di Montelongo - an indication that it was already enjoying a certain degree of independence. The development of the village led to the construction of a castle and a curtain wall; consequently an arengo (assembly of citizens) and a council were created, administered by a Patriarchal representative known as gastaldo. Patriarch Raimund von Thurn (della Torre) was also generous with Tolmezzo, granting it many privileges and furnishing it with guards.
By the 13th century Tolmezzo had become one of most important villages in Carnia. Within a few decades, it became an administrative and economic capital. It lived in apparent tranquillity up until 1323, when the population rebelled against the local feudal lords who had been abusing their powers over them. "During the reign of Patriarch Jan of Moravia privileges were granted and the ancient Statuta communis e terræ Tulmetii (Statutes of the commune and estate of Tolmezzo) were endorsed. In addition, the Patriarch donated a sum of 113 marks to be destined to the restoration of the castle."
Tolmezzo was re-fortified by the Serenissima after the Venetian conquest of 1420. The only surviving remains of those defensive works are few fragments of walls, now incorporated in more recent buildings, Porta di Sotto (Lower Gate) and Torre Picotta, standing on a hill just above Tolmezzo. From Torre Picotta, visitors can enjoy a magnificent view over the plains and the upper Tagliamento Valley, in a point where it meets with the But Valley.