Castello di Aiello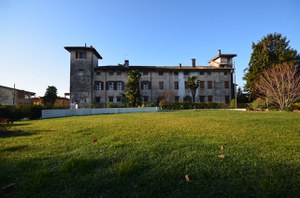 The large quadrangular building, called 'Castle' by popular tradition, was probably built on a fortress or watchtower constructed in patriarchal times. It has two mighty towers and the presence of several loopholes on the southern one would support the hypothesis that it was a fortification.
The first certain information about the 'Castle' dates back to 1589 when the Rabatta family, a noble Gorizian family of Tuscan origin, acquired the fortress, which at that time most probably included the south tower with a first block of buildings. The Rabatta family owned the castle for 170 years and enlarged it during this long period.
In 1760, the Castle was sold to the Marquises de Bona of Ragusa (Dubrovnik, in Croatian) in Dalmatia, who made it their residence and probably enlarged it to the shape of a quadrilateral.
It was later owned for a few years by the Counts Strassoldo of Chiarmacis and finally, in 1810, it was purchased by the Urbanis family of San Daniele del Friuli for 10,000 Augusta florins.
The castle also possessed an aristocratic chapel dedicated to St Michael Archangel, which was destroyed in the 19th century by fire.
In the early 20th century, the family moved to Udine and the building began to fall into disrepair.
During the 20th century, the building passed through the hands of several families, was split up and used for various purposes: as an Austrian gendarmerie, a chair factory and a kindergarten. During the First World War, it housed a field hospital and in the courtyard, tents were set up for the dressing of wounded soldiers from the trenches of the nearby front.
From three resident families in 1946, this has grown to six today, and the south wing is currently used as a holiday home.
The building has lost its characteristics as a defensive structure and looks like a 17th-century mansion that, although altered in the distribution of the interior spaces due to the changes it has undergone over time and the numerous renovations, has nevertheless retained the solid and mighty appearance of the original construction.
Some rooms retain frescoed ceilings with ornamental motifs and even some valuable landscape scenes.
The stones serving as the base of the tower and the fence in front of the main façade come from Roman remains in Aquileia.
Al Castello di Aiello
Casa Vacanze
Via Petrarca, 20
Aiello del Friuli
www.alcastellodiaiello.com
T.0431 998770
C.3247776584 Pantanali Aurelio
e-mail alcastellodiaiello@gmail.com