Castel Rubbia (Savogna d'Isonzo)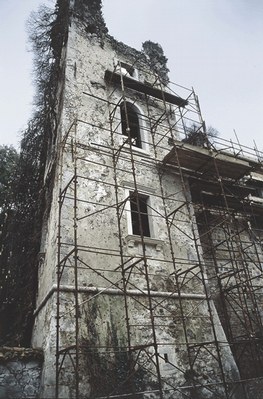 The castle is located at the confluence of the rivers Isonzo and Vipacco, near Gorizia. It was built between the 15th and 16th centuries on older pre-existing structures, as evidenced by the still existing walls.
However, the layout of the building seems to date back to the 17th century, suggesting that it underwent some interventions during this period that altered its original structure. In fact, it has a square plan with four corner towers, two of which are ancient and the others from the 17th century, while the original building had circular towers, one of which has survived.
It belonged to the family of the Counts of Torre-Valsassina and in the 16th century passed to the Coronini; in the last century it was owned by the Bianchi di Casalanza family, who carried out major restoration work. Severely damaged during the First World War, the manor has not been restored since.
The building, which cannot be appreciated from the outside because it is covered in creepers, is surrounded by a very extensive park, contained within 19th-century walls.