Castello di Zucco (Faedis)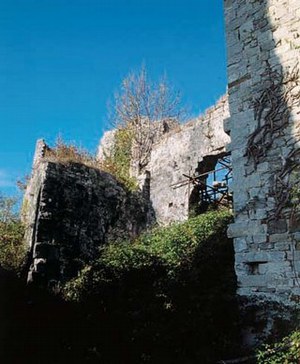 The castle was built by the Counts of Cucagna. Together with the Castle of Cucagna, it was part of a large fortified complex which included a small fortification at the foot of the mountain and a larger fortress (built in 1248) on the summit of the hill "qui dicitur Rodingerius" (known as Rodingerius). Zucco Castle was probably abandoned in the 16th century - possibly because it had been damaged by the earthquake of 1511 and by the frequent skirmishes which took place in that year, or maybe because it stood in an inaccessible location and had become strategically redundant.
The castle, which over the last few summers has been hosting an International workshop on Medieval architecture, can be reached by an ancient stone-paved path. The castle is well preserved and includes some imposing architecture, with interesting details such as the machicolations (murder holes) and the postern gate leading inside the keep. Visitors may also stop at the castle chapel, built in the late 16th century by Gabriele di Zucco upon earlier remains. Inside there is an attractive Madonna del latte (Madonna nursing the baby Jesus) with Saint John the Baptist and Saint James, dating from the 14th century.