Palazzo Fortificato Lantieri (Gorizia)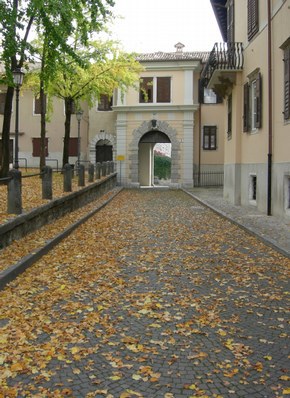 From 1200 to 1300, when the lower town wall was built, a villa of the Counts of Gorizia called Schoenhaus, now Palazzo Lantieri, was incorporated around the tower with a drawbridge, built near the town gate to the east and equipped with a guardhouse. Tournaments promoted by the Counts were held near today's sports ground; the red garlands on the tower give an idea of this.
In October 1505, when the last Count of Gorizia and Tyrol died out, the fief of Schoenhaus passed to his personal physician Antonio a Puteo, who sold the palace with appurtenances to Antonio Lantieri of Paratico in the same year; in 1513 Emperor Maximilian confirmed the feudal patents. The large wing of the palace was built by the Lantieri family in the second half of the 16th century, and the descendants of the lineage later built various buildings for representation. The Lantieri family, whose progenitor was Vintero Marquis of Istria who defeated Doge Candiani in '935 (Serenissima Archive), settled in Gorizia and became Barons of the Empire in 1560 and Counts of the Empire in 1642, hereditary Coppieri of the County of Gorizia and Falconieri of Carniola. From 1600 to 1700 they had their own 'Lantiery' Regiment of Corazzieri, which distinguished itself against the Turks under Eugene of Savoy, of whom General Federico Lantieri was one of the greatest leaders.
The Lantieri family, both as owners of the palace as well as their castles and villas, brought in artists from various eras, famous painters and decorators, such as Fogolino, Pittoni, Pavona and many others. The frescos in the ancient hall, initially attributed to Fogolino, were done in different periods and display Flemish influences. The grotesques in the subway (Sala della Cabala) are unique and appear to have been done in 1650 by a hitherto unknown artist.
Although the complex has undergone numerous restorations, the gate tower sandwiched between two 16th-century wings has not lost its defensive characteristics. From it branched the city wall, which is still about 200 metres long and about 5 metres high with an embankment on the part facing inwards, currently occupied by the Lantieri garden, while on the outside there are still some traces of the moat that is almost completely filled in. Despite the serious damage suffered during the First World War, the palace preserves important historical and artistic evidence inside.
Website: www.palazzo-lantieri.com