Castello Canussio (Cividale del Friuli)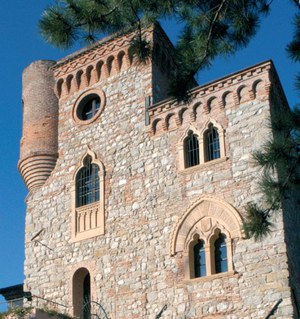 The Castle is located in the heart of Cividale del Friuli, an extraordinary setting of historical and artistic testimonies, inscribed since 2011 in the UNESCO World Heritage List for its inestimable Longobard heritage.
Cividale del Friuli, capital of the "Colli Orientali del Friuli" DOC wines, is also the ideal destination for all those who love wine and food tourism.
The Canussio Castle, located in the northern area of the city, today restored to its ancient splendour, is of extreme importance for the historical reconstruction of the entire walled circuit of Forum Iulii, founded around the middle of the 1st century BC by Julius Caesar, who had chosen it for its interesting geographical position, at the centre of an important crossroads. This building, considered the largest architectural complex of late antiquity, belonged, from the 12th century until the 19th century, to the Canussio family, who sold the property and then bought it back a hundred years later The archaeological excavations, carried out here on several occasions between 1991 and 2000, on the initiative of the Canussio family and under the direction of the Friuli Venezia Giulia Archaeological Heritage Office, brought to light, intact, the building succession of the Roman walls, erected to defend the city, for an extension of approximately 60 metres, visible in the inner rooms of the castle through glass plates placed on the floor and in the outer garden. The first and oldest curtain wall is the innermost one with a quadrangular tower, which recent studies attribute to the late Republican period (1st century B.C.).
For the subsequent reinforcement of the walls, with the addition of two polygonal towers (the western one visible in the garden, the eastern one, with a well-cistern at its centre that was used until recent times, is located inside the building), the date is proposed to be the late 5th century or the Gothic age, when Cividale acquired a renewed strategic role that led it to become that caput Venetiae (i.e. capital of the X Regio Venetia et Histria), mentioned by Paul the Deacon.
Archaeological investigations have also yielded a large quantity of artefacts (ceramics, glass and metals) from the Roman and Renaissance periods, deposited at the National Archaeological Museum in Cividale; with much of this material, around 500 artefacts, a didactic exhibition has been set up in the halls of the city museum.This castle is now the seat of the Foundation, Institute for Research into the Ancient World, dedicated to Niccolò Canussio, a humanist and historian of the first order in the 15th century.
It was precisely the Cividale scholar, who wrote De Restitutione Patriae, who defended his town against those who wanted to strip it of its millenary cultural tradition, which made it one of the eight cities of the time as the seat of the High Schools and, in the 14th century, one of the very first university seats in Italy.
Castello Canussio is available for:
◆ weddings and wedding teams
◆ Meetings and conferences
◆ Gala dinners
◆ Concerts
◆Exhibitions
◆ Photographic sets