Casaforte d'Attimis-Maniago (Buttrio)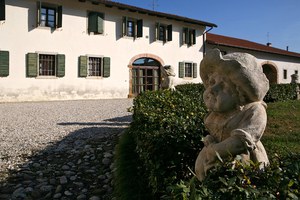 Already inhabited in the 14th century, when it acted as an advanced defence for Buttrio Castle, as evidenced by the turret with loopholes and the "strong house" structure in its central part, it underwent various transformations between the early 16th century and the late 18th century.
Owned by Co. Freschi di Cucanea, the house and vineyards passed to Co. Maniago in 1585, when Pompeo di Maniago married Lavinia Freschi di Cucanea.
A map of 1593 depicts the central nucleus of the 'casa forte' known as 'Tore delle Signore', consisting of a three-storey tower, decapitated in 1739 to build a granary on the pre-existing 'follador', inserted in a 'maschio' on the front of which are two driveway arches.
In the following centuries, the buildings were enlarged and adapted for the ever-increasing needs of wine-growing, the primary basis of the agricultural activities of the 'casa forte', and for the declining need for defence.
The "white" (or barrel) cellar and the underground cellar date back to the 16th century. The addition of a kitchen and a corridor with 4 rooms on the first floor of the west wing dates back to 1622. In 1619, a small church was erected in a slightly higher position than the present one, and in 1765 it was demolished and rebuilt where it stands today. During the 18th century, the house took on its present appearance with the construction of a stable (1741) and embellishment of the interior and exterior.
After all these transformations today the complex consists of:
1. A main body, the oldest, in which the perimeter walls of the 16th century tower are clearly discernible, with a portico on the ground floor and corridors with rooms on the first and second floors;
2. The west wing, with a cellar on the ground floor and a corridor with rooms on the first floor;
3. The north wing, with on the ground floor a sitting room and dining room as well as kitchens and on the first floor a corridor with rooms;
4. The east wing, with a large underground cellar, a "follador" on the ground floor and a granary on the first floor;
The 4 elements are intercommunicating, coming together as a whole and delimiting, with the church and the stable, the 'internal courtyard'.