Castello di Savorgnano (Povoletto)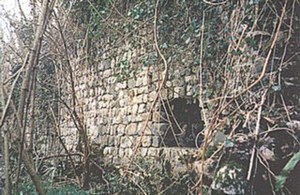 Built in 921 by permission of Emperor Berengarius, it was the fief of the Counts of Savorgnano, a prominent feudal family who frequently entered into conflict with the Patriarchs of Aquileia. In 1265 Rodolfo di Savorgnano was divested of the estate, having sided with the Count of Gorizia against the Patriarch. Subsequently, jurisdiction over the Savorgnano estate was granted to the Colmalisio family, who then added the Savorgnano name to their title.
What is left of the ancient castle are the remains of a wall, supporting the defensive terreplein; the ruins of two other circles of walls are higher up the hillside. On the hilltop there are the foundations of the keep, each wall over 7ft wide; to the west there was the palatial residence. The castle was also defended by two additional towers - one stood on a nearby hill and was surrounded by a moat, the other stood on a mountain called "guard's hill".