Casa Fortificata Pavona di Leonacco (Tricesimo)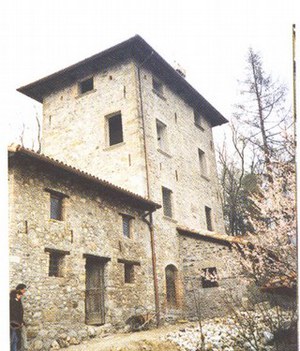 A 15th century fortified manor, built between the villages of Leonacco and Luseriacco, it belonged to the Counts of Pavona, a noble family originally from Brescia. The family coat of arms, in 16th century marble, can still be seen on the manor gate. According to the chronicles of the time, the Pavonas arrived in Friuli in the 13th century following the Patriarch of Aquileia, Raimund von Thurn (Raimondo della Torre). Having become part of the Udine aristocracy, they married into the most important local families and acquired part of the castle of Buttrio. The family became extinct with the death of Nicolò in 1756.
The manor includes a residential building, a large tower and a number of farming annexes, and is enclosed by an ample circle of walls, part of which almost six metres in height. On the ground floor of the tower, there is a room with an ancient cross-vault ceiling; the rooms on the upper floors display original 17th century features, such as the attractive plaster ceiling on the top floor.