Castello di Polcenigo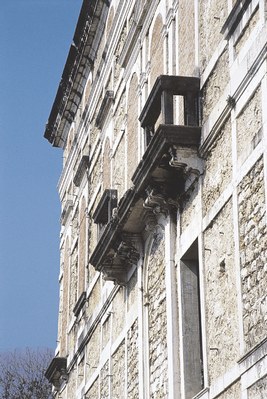 There is evidence that the hill where the castle is now standing was first occupied by a Prehistoric settlement, later used by Romans and Lombards. For a very long time the castle remained a possession of the Polcenigo family, who according to tradition descended from the French Counts du Blois. The castle was enlarged at the beginning of the 13th century, so as to include the surrounding village which had grown a great deal during the Middle Ages.
The present village includes several original buildings, such as Palazzo Scolari and Palazzo Fullini-Zaja, a former Franciscan convent, and a few Medieval towers which were part of the curtain wall. The castle was radically altered in the 18th century to a design by Matteo Lucchesi and took on the appearance of a Venetian villa, rendered all the more imposing by the flight of 365 steps leading up to its entrance.
The castle was sold in 1833 and passed through the hands of different families, who stripped it of eveything that could be lifted and trasported, including the roof tiles. However, the castle is still a very attractive sight, set in a natural environment of extraordinary beauty.