Castello di Villalta (Fagagna)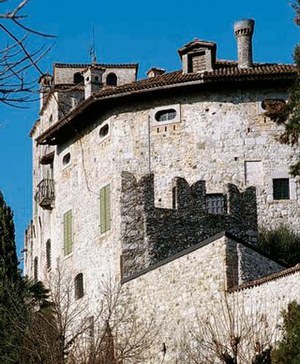 The castle, belonging to the noble family of the same name, was first documented in the 13th century and was often the site of bitter battles, owing both to its important strategic position and to the turbulence of its feudatories. So it was not by chance that, during the 13th century, it was destroyed and rebuilt several times.
In 1453 it became a fief of the della Torre-Valsassina family, a Lombard family that was a rival of the Viscontis and had arrived in Friuli in the 13th century, following a defeat suffered at the hands of that family. Under the Torre-Valsassina (also known as Torrianis), the castle was significantly extended, in particular with the construction of the impressive Renaissance wing against the ancient keep. The complex as a whole, however, has not lost its original configuration as a fortified structure, with its high tower, walls with Ghibelline battlements, drawbridge and numerous arrow loops. The Gothic atmosphere of 'ancient sparrowhawk's nest' is rendered all the more real by the fact that Lucio della Torre, beheaded in 1723 for his bloody acts, lived within its walls.