Fortilizio di Portis (Venzone)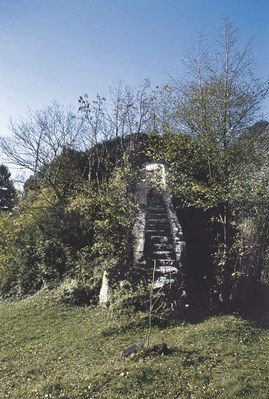 The village of Portis, a mile to the north of Venzone, lies at the narrowest point of the Tagliamento valley, crammed between the riverbed and the foothills of Monte Plauris. Standing on both sides of the motorway to Carnia, just below the church of San Bartolomeo, there are two Medieval bastions, the only surviving part of a larger fortified complex.
In ancient times this defensive complex effectively controlled the road to Austria, which branched out in two directions (one leading to Tarvisio and the other to Tolmezzo and Carnia) just a few miles to the north of Portis. Probably dating from the 15th century, the bastions are now standing in isolation. The area, however, contains the remains of numerous defensive works: the
Rivellino Veneziano
(Venetian counterguard) at location
Colle della Nave
, dated 1617; ruins of a wall at
Campo Castello
; fortress
Satimberch
, standing on a crag just above Portis; fortress
Pragel
, one kilometre to the east of Venzone; the
Spalti di Santa Caterina
, near the church of Santa Caterina, just above Venzone.