Rievocazione storica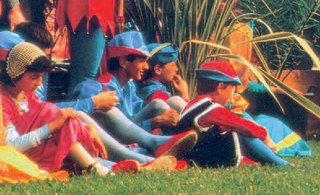 The charming town of Cordovado grew around a medieval hamlet and has reached our present times almost entirely unscathed. In the town there is a charming restaurant where delicious typical food is served, called Al Tiglio; there is also a bar called Centrale which lets rooms. Hotel accommodation is available in the nearby towns of Portogruaro and San Vito al Tagliamento. Cordovado can be reached by public coach service or by train provided in nearby towns.
The historic event which is re-enacted in Cordovado is not one of ruthless war but of joy and merriment, the splendid marriage between Riccarda d'Arcano and Francesco Ridolfi of Cordovado. The wedding took place in 1571 and thanks to the diligent historian Alice Sachs documentation of this historic event was rediscovered in the private archives of the Counts Arcano.
Weddings among the nobility during those far-off times were extremely important occasions: not only were important unions established among noble lineages, but century-long conflicts and battles were suspended, differences were reconciled, new agreements and interests took shape.
The wonderful re-enactment begins with a solemn procession which includes representatives from the four districts of Cordovado (Borgo, Saccudello, Suzzolins, and Villa Belvedere), each one with its own retinue. A vibrant, magical atmosphere is created as brave knights, gallant squires, lively villagers, and the Cordovado Flag-wavers parade through the Medieval streets. Once the procession reaches the large courtyard of the Palazzo Cecchini the tournaments begin.
An archery competition takes place and the four districts of Cordovado compete for the prize - recently this prize has been an important work of art created by a famous artist. All the inhabitants of the town participate by cheering. Every year in addition to this competition other attractions are provided. The whole town is animated with colourful stands, exhibitions, people wearing beautiful period costumes and several restaurants offering intriguing Medieval dishes.
Rievocazione storica
Piazza Cecchini, 27
33073 Cordovado (PN)
Telefono: 0434 690283


Prima domenica di settembre