Educational visits to pulbic and private castles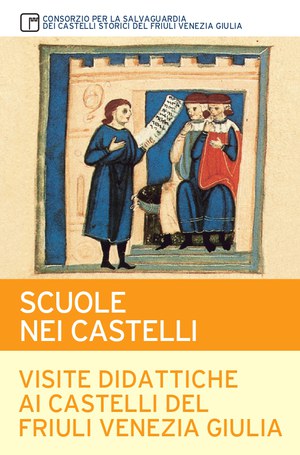 With more than 300 fortified buildings Friuli Venezia Giulia can tell you much about its past.
Towers, embattled walls, drawbridges are not simply architectural elements. They prove to be a significative help to let young people learn something more about local history.
Each abbey, castle or manor house is related to patriarchs and noblemen, knights and ladies, fights and revenges among the mighty families.
The Consorzio per la Salvaguardia dei Castelli Storici del Friuli Venezia Giulia has defined an educational project specifically thought for students from kindergarten to high school. Led by an authorized tourist guide groups, can visit public castles and their museums as well as private manors usually closed to visitors. Half day or full day tours including other sites of interest can be organized on request.
The didactic project has recently included some workshops in Torre di Porta Aquileia, seat of the Consorzio. Through specific activities based on game experience students will find out more details about daily life in a medioeval castle.
The following private castles can be visited by groups of minimum 20 students:
Cordovado (Villa Freschi-Piccolomini),
I castelli correntemente aperti al pubblico sono:
For more details about visits and workshops, please contact Dr. Mascia Bincoletto – phone 39 339 46295538 (Monday and Thursday, 10 a.m. to 12 a.m.) or
Consorzio per la Salvaguardia dei Castelli Storici del Friuli Venezia Giulia
Torre Porta Aquileia
Piazzetta del Pozzo n.21
33100, Udine – Italy