Azienda Vinicola Conti Formentini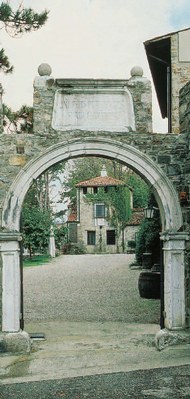 The hamlet of San Floriano is nestled among rolling hills a stone's throw away from Slovenia. It is not very big but very attractive and well-structured. In the Formentini Castle, at the centre of the village, there is a splendid restaurant which serves excellent typical Friulian-Austrian cuisine, reflecting the long Hapsburg domination (reservations for a minimum of 12 persons must be booked in advance). A fine hotel featuring 12 double bedrooms and a suite is also located on the castle grounds. A golf course, a tennis court and a swimming pool are situated in the vicinity. To reach San Floriano from nearby towns a bus service is provided.
The historic Conti Formentini winery is situated in the northernmost part of the Collio D.O.C. zone, between the Isonzo and Judrio rivers, along the border with Slovenia. For almost five centuries the Winery has played an important role in the tradition of Friulian wine-making and in particular in the area of Collio, a zone in Italy since time immemorial considered one of the most suitable for vineyards and wine-making.
The Collio is an area especially suited for the production of excellent, high-quality wines. The terrain is composed mainly of marl and sandstone with a particular structure and mineral content which gives the grapevines the nutrients necessary to flourish and resist dry spells. The cool, ventilated climate allows the cultivation of healthy grapevines and enhances the precious aromatic qualities of the grapes. Add to all of this the experience, technological expertise, and innovative spirit of the Conti Formentini winery and you have unique, superb wines of distinct character. A careful selection of grapes gathered from the vineyards located near San Floriano produce rich, fragrant white wines and harmonious, ruby reds. The wines are produced in the winery located on the castle grounds where indispensable, modern technology is combined with traditional methods. Inside the winery it is possible to visit the Wine Museum which displays antique wine-making instruments.
Azienda Vinicola Conti Formentini
Via Oslavia, 5
34070 San Floriano del Collio (GO)
Telefono: 0481 884131 Fax: 0481 884214
E-mail: m.delpiccolo@giv.it