Museo del territorio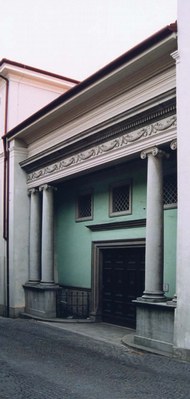 The Museum houses a vast collection of objects and works of art, organized in three sections: archaeological, artistic, and ethnographic. Previously stored at Palazzo Masetti de Concina, in 1981 the collection was moved to its present location - the 15th-century cloister of a former Dominican convent.
The ground floor houses the ethnographic section, illustrating the history of ancient crafts such as wool-carding, shoe-making and wood-working. The first floor contains archaeological finds, excavated in 1984-85 near the ruins of the Medieval castle of San Daniele: fragments of ceramics and bones from the 11th to the 3rd century BC; small bronzes from the Pre-Roman period; amphorae, fibulas and coins from the 1st century BC to the 4th century AD; fragments of marble statues from the Carolingian age; the cast of a bell dating back to the Patriarchal period.
The Fine Arts section is subdivided into Sculpture and Painting. The section on Sculpture comprises the valuable Vidoni collection with contemporary bronzes and statues. The most important exhibits , however, are two 15th-century wooden pieces of great artistic and historical value. One is a magnificent altar on two levels attributed to the Venetian sculptors Paolo Amedeo and Michele Bono, probably dating from the mid 15th century; it features a Madonna and Child with twelve saints, crowned by a Cristo in Pietà. The other is a beautiful Lamentation over the Dead Christ by the Bavarian sculptor Leonhard Tanner, made in 1488 for the church of Santa Maria della Fratta in San Daniele.
The Picture Gallery displays a rich collection of paintings and frescoes dating from the 14th to the 20th century. The collection includes a small altar with a 16th-century Crucifixion and an altarpiece representing Saint Florian; a Madonna del Carmine by Eugenio Pini (1600-1654); and a The Rest on the Flight into Egypt, painted in the 17th century by an unknown artist and originally belonging to the Vidoni collection, which also includes numerous contemporary paintings.
Museo del territorio
Via Udine, 1
33038 San Daniele del Friuli (UD)