Museo di Gorizia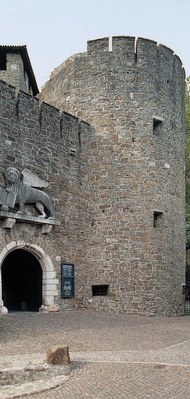 A visit to the Castle of Gorizia is a wonderful opportunity to learn about the layout and furnishings of a typical palatial residence.
On the ground floor there is a small dining-room and a kitchen featuring a large fogolâr, furnished with period tables and dressers displaying a selection of antique kitchen implements. Close to these rooms are the Prison and the Armoury, housing a display of perfectly-reproduced steel weapons dating from the 13th to the 16th century.
On the first floor, past a wooden statue of an armed guard, you come to the Castle's reception halls. The spacious Sala del Conte (Count's hall), featuring a beautifully-decorated wooden ceiling, was used as an assembly hall up until the 15th century; it now serves as a conference room. The adjoining Sala degli Stemmi (stemmi means coats-of-arms) contains precious sculptures and coats-of-arms of prominent Gorizia families. Past the Sala degli Stemmi are the Castle's guest quarters, collectively known as Foresteria. Here, the Music Room contains a collection of perfect replicas of Medieval instruments. The last room on this floor, the Sala degli Stati Provinciali (Hall of the Provincial States), is the grandest in the castle. It features a splendidly-decorated wooden ceiling, an elegant wooden gallery and a painting by Franz Lichtenreit of Passavia (1700-1775) representing Isaac's sacrifice.
On the second floor two rooms are open to the public: the small Chapel of San Bartolomeo, containing important Venetian paintings and fragments of 15th-century frescoes; and the granary, also known as Sala della Contea (County Hall), displaying a detailed reconstruction of the history of the County of Gorizia. Here a series of relief models and information panels illustrate the evolution of the city and its territory between the 13th and 19th centuries.
The tour ends on the Cammino di Ronda (rampart walkway), affording unparalleled views over the city. On the ramparts, there is a display of full-size replicas of large-size weaponry such as the catapult and the trebuchet.
The Gorizia Castle reopens to the public from 1 July with the following opening hours
Wednesday from 3 p.m. to 6 p.m.
Thursday from 3 p.m. to 8 p.m.
Friday - Saturday - Sunday from 10.00 a.m. to 6.00 p.m. (on Saturday 1 July the Castle opens to the public from 1.30 p.m.)
Monday and Tuesday closed days.
Museo di Gorizia
Borgo Castello, 36
34170 Gorizia (GO)