Castello di Cordovado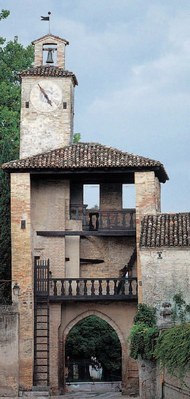 In the Villa Freschi Piccolomini it is possible to admire both an Italian-style garden and an English-style park, characterized by clear subdivisions, visible still today. The garden, in fact, is situated within the fortified village, separated by a deep ditch from the park which was developed outside the castle grounds.
The first modifications to the green area were carried out by Carlo Sigismondo Freschi, who during the 1820s pulled down the parts of the wall close to the villa in order to extend and remodel it according to Romantic influences. Seven small hills were formed to add movement and ditches were transformed into streams.
This vast area was reconstructed with several small woods and clusters of bushes or trees connected by a network of paths bordered by hedges. Among the different plant and tree varieties several are worth pointing out either for their beauty or their old age: an evergreen magnolia (Magnolia grandiflora), a deodar (Cedrus deodora), a Japanese pagodatree (Sophora japonica) and two magnificent elm trees (Ulmus campestre). The box plants that can be admired in one of the woods were once part of a garden labyrinth. The outward bounds of the park are formed by tall trees.
An Italian-style garden, only partially survived, was created surrounding the villa. The part in front of the villa, the so-called Garden of Honour, has maintained its traditional geometric shape although only arboreal species grow there today; the wide circle in front of the main entrance is bordered by a series of plane trees planted at regular intervals framing the area: this is the cavallerizza (equestrian training area) named for its original function. The area between the villa and the park is formed by a courtyard and a lawn; the walkway leading to this area is covered by a pergola dressed by climbing plants, the only part of the Italian garden which has remained intact. The garden situated behind the villa has been subdivided into geometric Italian-style flowerbeds.
Castello di Cordovado
Via del Castello, 5
33073 Cordovado (PN)