Headquarters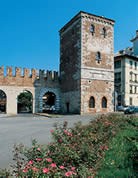 The Consortium has its headquarters in the Tower of the Aquileia Gate in Udine, one of the towers that was part of Udine's outer city wall, located at the end of Viale Palmanova. Close to the Railway Station.
The Tower has four floors, used as follows:
ground floor: a permanent Exhibition on the Region's castles.
first floor: Specialist library and the Consortium's technical department.
second floor: Consortium's administration department.
third floor: Conference room with a capacity of about 50.
The Tower is kept open four times a week by the Consortium's administrative, library and technical staff, as well as by its directors and voluntary assistants.
Office hours
on Monday and Tuesday from 3 p.m. to 7 p.m.;

on Wednesday and Thursday from 9 a.m. to 1 p.m.