Museo Storico Militare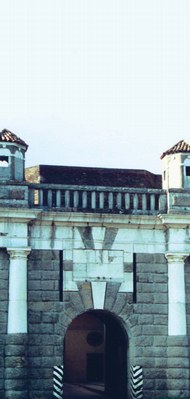 Established in 1987 by the Ministry of Defence, the Museum is named after the Cavalry Brigade Pozzuolo del Friuli. Housed in the tower of Porta Cividale, it contains a collection of documents and memorabilia retracing the history of the troops which have been garrisoned in the fortress of Palmanova from 1593 to this day. The exhibits are arranged thematically, taking into consideration topics such as fortifications, weaponry, and uniforms. This last section is particularly interesting, illustrating the development of uniforms with drawings (from originals kept in the Vatican Library in Rome or the Museum Correr in Venice), replicas of historical uniforms, and original uniforms from World War I and II. The display is accompanied by numerous information panels.
The visit ends with a walk along a portion of the city walls (exactly one ninth of the entire circle of walls). From there, visitors can enjoy a full view of the structure of the fortress together with its three circle of walls (two of them built by Venice, one by Napoleon).
Museo Storico Militare
Piazza Grande, 21
33057 Palmanova (UD)