Lapidario Tergestino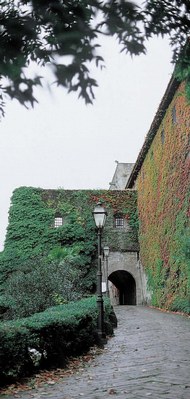 The recent exhibition project has made it possible to collect the most significant testimonies from the lapidary garden of the Civic Museum of History and Art into a museum housed in the Lalio Bastion of the San Giusto Castle.
The stone objects dating from the 1st-2nd century A.D. have been divided by area of origin into three rooms. The first (Room A) gathers the remains of some of the most imposing and indicative monuments of the public area that were located at the top of the San Giusto hill: the Civil Basilica, the Propylaeum (or monumental entrance) and the Capitoline Temple. The presence in the area of this sacred building dedicated to Jupiter, Juno and Minerva is confirmed by the discovery of a pyramidal spire whose sides bear depictions of the Capitoline Triad.
Room B displays material that belonged to the Forensic Basilica, fragments of imperial inscriptions, honorary monuments of illustrious citizens and fragmentary statues. Some of them present curious modifications because they were reused at different times: for instance a portrait of Emperor Nero reworked to depict his successor Vespasian or a relief with the head of Jupiter Ammon reused in the bell tower of San Giusto.
The last room displays the remains of funerary monuments from the Terestine necropolises, materials related to cults and sacred buildings, as well as finds from the area of the Roman Theatre. Explanatory panels accompany the exhibition and help in the reconstruction of public buildings, the urban settlement, the history of Tergeste and the defence system to provide a complete picture of the Roman settlement in Trieste.
Lapidario Tergestino
Piazza della Cattedrale, 3
34121 Trieste (TS)