Museo documentario della città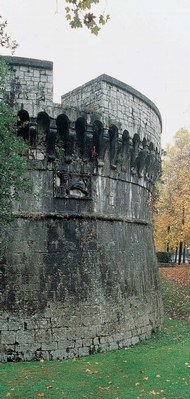 Opened in 1984, the Museum contains a vast collection of documents, objects and recordings reconstructing the history of the city and fortress of Gradisca.
The collection, arranged in chronological order, begins with an analysis of the evolution of the area from 50 million years ago to this day. The first section is devoted to the River, as a key element of an economic, social and military world characterized by a strong interrelation between man and environment.
The second section is entitled Settlement and displays Roman remains from the 1st to the 3rd century AD, such as a sculpture from the age of Claudius representing the head of a man. This section illustrates the strategic importance attributed to this area by Roman administrators; after the Romans came the Lombards, who used a local Roman bridge as a cornerstone of their defensive system. A small side room, containing a collection of paintings and frescoes, takes you on a brief artistic detour; particularly noteworthy are the paintings by Giulio Quaglio, originally contained in the Cathedral.
The next section is entitled Venice, Maximilian, the Turks. At the end of the 15th century Gradisca, then a small peasant village, was transformed by the Venetians into a prestigious citadel, indispensable to Venice as a defence against its greatest enemies: Maximilian of Hapsburgs and the Turks. The section contains a collection of weapons, such as swords and guns from the 15oos to the 1800s; of particular interest is a Turkish suit-of-armour dating from the late 16th to the early 17th century.
The fourth section, Aqin, documents the seven Turkish raids which swept through Friuli during the 16th century. The raids, benefitting from advanced technical knowledge, are illustrated by a specially-devised installation arranged inside an antique door frame.
The fifth section, War machine, concentrates on the Gradisca fortress. Construction work began in 1474 and was carried out in three stages up until 1511, the year in which Venice surrendered to Austria and Gradisca became a part of the Hapsburgs Empire. But not all was lost, because the knowledge the Venetians had acquired during the construction of Gradisca was used a century later in the construction of the new fortress of Palmanova.
The final section is devoted to the Jewish community of Gradisca d'Isonzo and contains photographs and documents illustrating the life of the Jewish community which settled in Gradisca between the 16th and the 20th century.


Museo documentario della città
Via Bergamas, 30
34072 Gradisca d'Isonzo (GO)