Sale di Castelcosa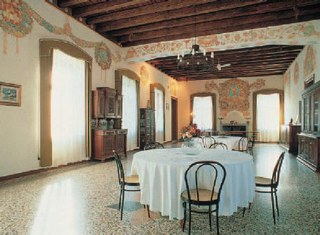 The Castle of Cosa can be reached by coach services provided in nearby towns. If you want to taste typical Friulian food, La Baita restaurant is the place to go. Hotel accommodation is available in the nearby town of Spilimbergo. At the Furlan enoteca fine wines from the castle cellar can be savoured in a charming, friendly ambience.
The castle features spacious rooms among which the large reception hall (21x8x4m) placed on the second storey. The hall can be reached by climbing a large external staircase from the main entrance of the castle. There are two entrances to the hall, both via adjoining rooms; there is an emergency exit. The castle has been restored in accordance with modern safety and construction standards and all the rooms are heated.
The Venetian terrazzo flooring, newly-frescoed walls, grand chandeliers and the period furniture of the reception hall all blend together to create an atmosphere of splendid regality. The hall can hold from 120 to 160 people, depending on how it is arranged. It is perfect for conferences or meetings, equipped with two tables and an adjustable lighting system. The modern bathroom facilities are heated. The reception hall is available year-round. There are also three adjoining halls (17/21/17x8x4m), restored to modern standards, heated, capable of holding from 120 to 160 people.
Sale di Castelcosa
Via Palazzo, 1
33095 Cosa - San Giorgio della Richinvelda (PN)
Telefono: 0427 96134/96585