Locanda Castello di Buttrio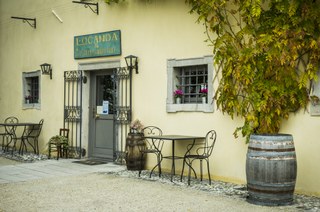 The Castle of Buttrio can be reached by coach services provided in nearby towns.
This charming, well-appointed restaurant-inn is located behind the splendid 17th-century palace which was erected on the ruins of a Medieval castle. It is situated on the top of a hill with a superb view of the plains. In the spring and summer you can enjoy the panorama from the terrace while relishing the restaurant's culinary delights. The richly-varied menu has been inspired by the traditional cooking style of the region.
Game lovers should plan a visit to this restaurant which specializes in dishes based on game such as: anatra con polenta (Duck with polenta), lepre con castagne (Hare with chestnuts), cervo (Venison), along with traditional specialities such as lumache (Escargots), coniglio alle erbe di campo (Rabbit with wild herbs) and orzotto (Barley risotto). From the dessert list you can chose from torta di mele (Apple cake), Strudel, torta alle mandorle (Almond cake) and many other specialities created by the cook who carefully selects ingredients provided by the surrounding territory.