Palazzo Strassoldo Grafenberg-Coronini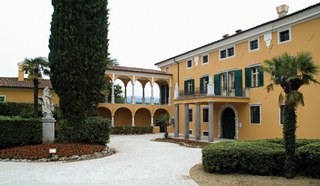 18th-century maps show that there was once a garden behind the villa with a square-shaped perimeter which opened onto a small square. As soon as the Coronini family became the proprietors of the villa, motivated by their love for nature, work to revive the garden began.
The most important modifications to the garden were made by Count Alfredo Coronini towards the end of the 1800s and the beginning of the 1900s. The five-hectare park was personally designed by the Count, who had developed an interest in Italian and above all English-style gardening during his frequent travels around the world. After careful consideration he decided that the previous geometric lay-out should co-exist with the new layout. Thus to the previous park he added patches of woods with evergreen trees situated along the perimeter of the estate and on a level lower than the villa (beside the River Corno).
Large masses of stones were transported from the Moncorona (Cronberg) quarry and placed on the steep slope which connected the two levels of the park, creating a giardino delle rocce (rock garden). Its spectacular landscaping was heightened by the shimmering mirror effect produced by a meander of the River Corno at the bottom of the slope. Then some beautiful sculptures were added, such as the Hecateion dating to the 2nd century AD and transported from Aquileia, or the 18th-century statues which were moved here from other parts of the estate. The statues were skilfully alternated with a wide variety of trees: hollies, pines, firs, maples, walnuts, cedars of Lebanon, cypresses, mulberries, horse-chestnuts, ashes, pomegranates, cherries, medlars as well as magnolias, oleanders, roses, wisterias, and camellias. Cork oaks were planted in the upper part of the rock garden, a true accomplishment for those days, while flowering plants were allocated in defined areas (flowerbeds around the statue of G. Coronini or in the rock garden); among the many gorgeous flowers we would like to point out the splendid century-old Camellia japonica growing in a pergola close to the avenue.
A new hill was created and pine-trees were planted around a circular temple, which was built in 1914 to crown the spectacular park. Even though some modifications were made in 1944, for the most part the park has retained its outstanding original characteristics.
Palazzo Strassoldo Grafenberg-Coronini
Viale XX Settembre, 14
34170 Gorizia (GO)
Telefono: 0481 533485 Fax: 0841 547222
E-mail: info@coronini.it