Azienda Agricola Vinai dell'Abbate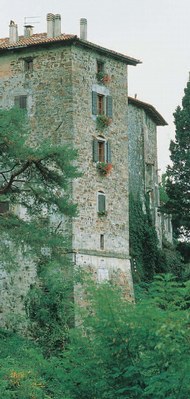 The Rosazzo abbey, although somewhat distant from bigger towns, is surrounded by many restaurants. Just to name a few there is the Ronchi di Sant'Egidio agritourism-restaurant nearby; and the Al Buco restaurant in Dolegnano. Others can be found in Cormons (La Subida) and in San Giovanni al Natisone (Al Campiello). Hotel accommodations are available in Manzano, San Giovanni al Natisone and in Cormons. Public transportation is provided in Corno di Rosazzo; public transportation is not provided in Rosazzo.
Ever since remote times the Rosazzo Abbey has been producing excellent quality wines. In 1980 Walter Filipputti was given in concession the vineyards, which at that time had been abandoned. He restored the vines and enhanced the native varieties of Pignolo, Ribolla Gialla and Picolit. On the southern side of the abbey true enological treasures of the Friulian region are preserved.
The vineyards are cultivated in an area where D.O.C. Colli Orientali del Friuli (Eastern Hills of Friuli) vines are located. It is an area especially favourable for vine growing for several reasons: it is close to the sea which gives it a mild micro-climate, the altitude of 176 metres above sea level makes it a well-ventilated area with an intense exposure to the light and sunrays, and the Santa Caterina Mountain provides protection from cold northern winds. All these elements produce especially important and high quality wines.
The winery has two wine cellars: one for the production of wine and the other for ageing wine. The cellar used for maturing wines is the old one that the monks used for centuries, the oldest in the Friuli region. Always part of the abbey there is also the Vino e Cose shop where you can purchase wines and olive oil produced at the Rosazzo Abbey along with hand-crafted objects and special food products.