Arcania winery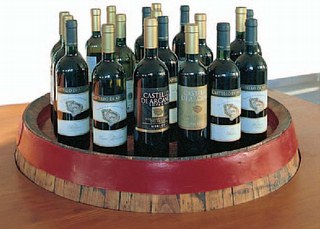 The Arcania winery is situated in the hamlet of Arcano Superiore near the castle and surrounded by lovely rolling hills. Hotel accommodation can be found in the nearby towns of Fagagna and San Daniele.
Castello di Arcano Superiore is the trademark which distinguishes the wines produced by the Arcania winery. It was created from the desire of five Friulian agriculturists, who were individually cultivating vineyards and making wine, to unite their efforts and establish one modern winery. The Castello di Arcano Superiore wines have been developed to satisfy the most critical customers who demand healthy, premium quality products.
These wines, obtained exclusively from the grapes produced by the five wine growers, have reached high levels of quality. They use organic methods to cultivate the vineyards and when making wine they prefer physical interventions to chemical ones, such as temperature control, filtration and static decantation.
All of the Castello di Arcano Superiore wines have been certified by I.M.C. (Mediterranean Institute of Certification), an organization which checks and controls the production of wineries.
Azienda Vinicola Arcania
Castello d'Arcano - Località Arcano Superiore, 11/c
33030 Rive d'Arcano (UD)
Telefono e fax: 0432 809500
E-mail: castellodiarcano@interfree.it