Castello di San Floriano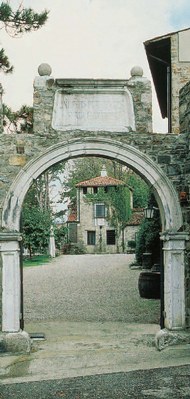 San Floriano Castle can also be reached from Gorizia by public bus service. It has its own large car park.
The castle, situated on a hill overlooking the surrounding valley, is currently part, together with the ancient village, of a well-structured complex. The wine bar, located in the former cellars of the ancient residence, is open from Friday to Sunday. The cuisine is local, seasonal and very well prepared. In addition, if you book in advance, you can participate in the famous medieval banquet that is organised here cyclically and of which we propose a typical menu: sopressata di teste di cinghiale, caso et cipolle, menestra gialla imperale, gigotto de porco, frictata de herbe, fasciani arrosto con le loro penne, dolci di credenza et pasta tedesca in diverse armi, cesti de frutta. The Castle opens its halls by appointment as a 'location' for weddings, banquets, conferences and for guided tours.
Castello di San Floriano
()
Telefono: 0481 884274 Fax: 0481 884856
E-mail: www.castelloformentini.com
orario della segreteria: da mercoledì a domenica 09.00 - 17.00