Torre di porta Aquileia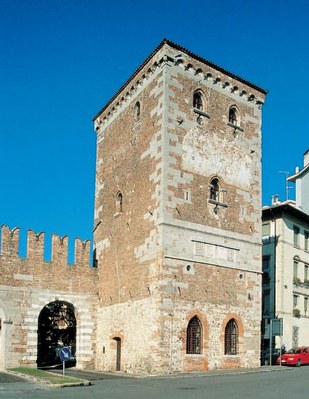 The tower of Porta Aquileia is part of Udine's third and most recent circle of walls, built between the 14th and the15th century as a protection of the original nucleus of the city (a perspective view is shown in a painting attributed to Luca Carlevarijs, kept at the Gallery of Ancient Art). Positioned along the road to Aquileia and Grado, the tower was one of thirteen entrance gates to Udine. Six of these gates, located at the main points of entrance, were guarded by fortified towers; one of them was Porta Aquileia. Built in 1411, its façade is decorated with the coats-of-arms of both the City of Udine and the Savorgnan family, in recognition of the fact that its construction had been supervised by a member of the Savorgnan family.
Porta Aquileia houses the offices of the Consorzio per la Salvaguardia dei Castelli Storici del Friuli-Venezia Giulia. A display on the ground floor illustrates the various types of Medieval fortifications in Friuli, retracing the history of Friulian feudal society from the Late Middle Ages to the beginning of the Venetian domination. On the first floor there is a specialized library on fortified architecture.
Torre di porta Aquileia
Piazzetta del Pozzo, 21
33100 Udine (UD)