Museo etnografico del Palazzo Veneziano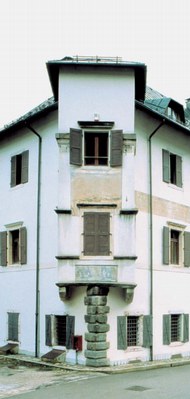 Opened in 1990, the Museum retraces the history of Val Canale and Canal del Ferro in the extreme north-east of Friuli, since prehistorical times a point of contact between Friuli, Carinthia and Slovenia.
The Museum is organized over three floors, each one exploring a different theme. The six ground floor rooms describe the territory of Val Canale; the first floor takes us through the history of the museum building; the top floor houses a large collection of tools, documents and photographs illustrating the history of economical activities in this area between the 16th and the 19th century.
The first room of the Museum is entirely devoted to geology: a number of rock samples, accompanied by photographs, demonstrate the geological and palaeontological importance of this area, which is also characterized by strong seismic activity. The second room contains an interesting collection of fossils, accompanied by an information panel reconstructing the evolution of life on earth, organized by species (plants, molluscs etc) and periods (Archaeozoic, Palaeozoic etc). The third room concentrates on the history of man during prehistorical times, and contains a collection of local archaeological finds from Prehistory to the Roman age.
An entire room has been devoted to the most important economic presence in this area: the Raibl mines (later re-christened Cave del Predil), which have recently closed down. The history of the mines dates back to 1007, when the Bishop of Bamberg took possession of the territory of Val Canale, sending there Austrian miners to start excavations. The final room has been arranged with the help of the local population; it houses a concise but extremely interesting account of everyday life in the valley, reconstructed on the basis of old documents and with the assistance of the older members of the community.
Part of the second floor houses temporary exhibitions. The remaining rooms contain a permanent display of scale models and documents illustrating the history of Palazzo Veneziano. The exhibition continues on the top floor, where a first section retraces the history of local economic activities between the 16th and the 19th century, and a second section describes the naturalistic and botanical characteristics of the Tarvisio forest and its special juridical status.
Visitors should not fail to stop in the Museum garden, hosting a true natural treasure. It is an ancient lime tree (Tilia x vulgaris Hayne) over 400 years old, standing at a height of 25 metres and with a trunk 5.8m wide.
Museo etnografico del Palazzo Veneziano
Via Bamberga, 53
33010 Malborghetto (UD)