Castello Formentini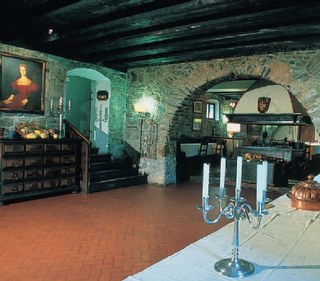 The hamlet of San Floriano is situated along the northern border of the Gorizia Collio hills, a stone's throw from Slovenia. Although it is not very big it has been structured and equipped to satisfy modern request. In fact the Formentini Castle, situated in the heart of the hamlet, has a wonderful restaurant where traditional Friulian-Austrian dishes can be tasted. Reservations must be made in advance for a minimum of 12 people. Next to the castle one of the historic houses of the hamlet has been completely restored and converted into a hotel, the Golf Hotel. It is run by the Formentini family and features 12 double bedrooms, 2 single bedrooms and a suite. The area has also been equipped with a golf course, a tennis court and a swimming pool.
The castle can be reached by coach service provided in nearby towns. The reception room (20x8x4) is placed on the first storey of San Floriano castle. There are three entrances to the hall with stairs leading to these entrances. It is well-heated and there is an emergency exit.
A warm, fascinating ambience is created by rust-coloured terra cotta flooring, a wooden beamed ceiling, a fireplace and antique paintings. The hall can seat 140 people with an overall capacity of 180 people. There is a table placed at the disposal of speakers for conferences or meetings; the lighting is adjustable. The bathrooms are heated. There is an adjoining heated library room (6x7x4m) suitable for 30 people. Available year-round.
Castello Formentini
Piazza Libertà, 3
34070 San Floriano del Collio (UD)