Sala del castello di Panigai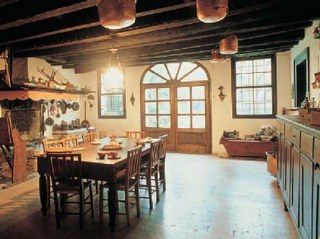 The Castle of Panigai is located on the banks of the peaceful Siletto river surrounded by a beautiful park with centuries-old trees. A small quaint bar is located on the square next to the castle.
The Pranis restaurant in Villotta di Chions and the Da Genny restaurant in Azzano Decimo are two places where traditional dishes prepared with impeccable ingredients are served. Hotel accomodation are available at the Hotel Roma in Villotta. Panigai can be reached by coach services provided in nearby towns.
The reception hall is placed on the ground floor (13x5x3.8m). There are two main entrances to the hall, one in the front of the palace and one in the back. Two steps lead to these entrances, which can be used as emergency exits and are in accordance with modern construction standards. The hall has six other doorways which adjoin other rooms. The reception hall has Venetian terrazzo flooring and a wooden beamed ceiling. It is decorated with wooden wall-fittings, original prints, four elegant wooden chests and a small attractive carriage. All these elements play together to create a captivating romantic atmosphere. It can seat up to 60 people with a maximum capacity of 70.
For conferences and meetings it is equipped with a table for speakers and an adjustable lighting system.
Since the hall is unheated it is available only from May to September.
In addition there are four other adjoining rooms available (5x5x3.8m), unheated, which can hold circa 20 people each.
Sala del castello di Panigai
Piazza Prè Bortolo di Panigai, 1
33076 Panigai di Pravisdomini (PN)