Palazzo Lantieri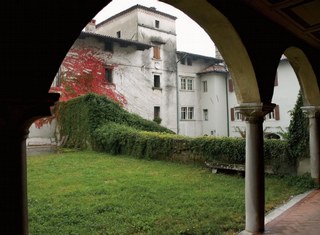 The Lantieri Palace is situated in the heart of the historic centre of Gorizia. It can be reached by coach service from nearby towns; by train from towns further away. Close to the palace is the Barbablu enoteca which offers great Collio wines plus a fine selection from other regions and the Al Chiostro restaurant which serves wonderfully-prepared typical dishes. Overnight accommodation is available in Gorizia.
The unadorned external features of Palazzo Lantieri are compensated by rich, warm interiors. The reception hall (21x10x5m), called The Ballroom, is placed on the first storey of the most recently constructed wing. Access to the hall is by climbing stairs which lead to the main entrance; the hall has three additional doorways which adjoin other rooms. Everything meets modern construction standards. The reception room, which for the time being is not heated, has antique furniture from the 1800s and wooden flooring and ceiling. The hall is well illuminated with wall-lights and decorated with 18th and 19th century prints.
The hall is available for conferences or meetings and is capable of holding up to 200 people; the lighting system is adjustable. The bathrooms are modern and heated.
The reception hall is encircled by six other halls (7/10x8x5m), richly furnished with wood-burning stoves or fireplaces. Each room holds circa 20 people; they are available year-round but the ideal period is from April to October.