Castello e Borgo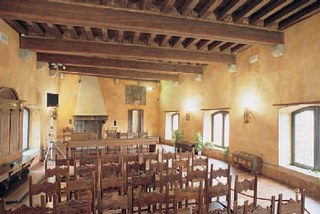 The Castle of Gorizia is situated on a hill overlooking the city of Gorizia, in the middle of an ancient Medieval hamlet. In the area there is La Taverna al Museo where exquisite local wines can be savoured and upon request parties can be organized, and the famous La Lanterna d'oro restaurant where beautifully executed dishes can be relished.
In the city of Gorizia many other fine restaurants, enoteche and hotels can be found. The city is well serviced by public transportation, both coach and train.
The Sala del Conte (Count's Hall, 24x8x5m) is placed on the first storey. There are three entrances to the reception hall: two by going through the Loggia degli Stemmi (stemmi means Coats of Arms), and one right after the castle ticket office.
The hall can be efficiently heated upon request. The hall has been richly appointed with period furniture (chests, coffers, a strongbox, and an impressive large chest once belonging to the Rucellai family), paintings, and a large fireplace. All these elements together with the decorated ceiling beams create an atmosphere full of character. The hall can seat up to 100 people. The hall is equipped with an adjustable lighting system and a large table which can be used at conferences and meetings. Bathrooms facilities are placed on the ground floor. Available year-round.
There are two other adjoining rooms, unheated: The Loggia degli Stemmi (11x4x3m) is suitable for 40 people and an entrance hall (5x3x4m) is suitable for 20 people. In addition, there are other enchanting rooms within the castle complex, some richly decorated with antique furniture.
Castello e Borgo
Borgo Castello, 36
34170 Gorizia (GO)