Sale del castello di Arcano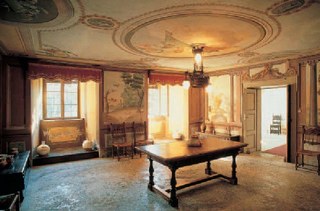 The Castle of Arcano, set amidst unspoiled, undulating hills is among the most fascinating in all of Friuli, evocative of Medieval times. To preserve and enhance the natural beauty of the castle and its environment, visitor facilities have not been overly developed. An organic farming and wine-making business is located in the hamlet next to the castle. For a stimulating tour of the winery and a sampling of their wonderful wines make reservations in advance by contacting the Consorzio Visitors Center. Organized tour groups are welcome.
The reception hall (14x8x4.5m) is the largest of all the halls in the castle. It is situated on the first storey of the palatium, the proprietor's residence. The hall can be reached by climbing a flight of steps from the inner courtyard or stairs from other rooms. There are two entrances to the hall and one emergency exit. The spacious reception hall is enriched by a wooden floor and ceiling, lighting is provided by a beautiful chandelier and wall-fittings. A wood-burning fireplace with a precious marble mantle adds grandeur and warmth to the room. It is decorated with weapons, spears, and precious antique furniture including a remarkable iron-reinforced chest. There are also two large admirable portraits from the 17th century, one of which was painted by Fulvio Griffoni.
Sale del castello di Arcano
Via Arcano Superiore, 25
33030 Rive d'Arcano (UD)