Giardino di Strassoldo di Sopra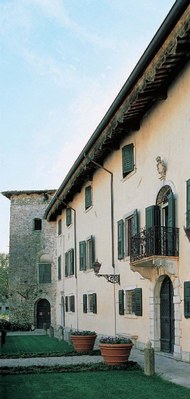 The garden of Castello di Sopra was designed in the mid 18th century, at the same time as the park of Castello di Sotto. The development of the two gardens was carried out on the orders of brothers Giuseppe and Nicolò Francesco, Counts of Strassoldo, who had decided the enlargement of the castles and the reclaiming of the surrounding terrain. Giuseppe (1700-1783) was responsible for the upper castle, where he tried to recreate the elegant atmosphere typical of refined 18th-century mansion houses.
The influence of the late barocco style can be seen in the arrangement of the splendid orangeries surrounded by impressive 18th-century columns; the somewhat recent addition of the beautiful Papa Meilland roses, partially functioning as roof cover, donate a genteel quality to the structure. Many trees planted in that period still stand today such as the imposing evergreen magnolia (circa 300 years old) in the middle of the park; there are also maples, limes, horse-chestnuts, and common yews (Taxus baccata). Other trees from the 1700s are the European hornbeams (Carpinus betulus) growing along the waterway which crosses the green area. Palm trees have been recently planted close to the exit forming a shady niche; the romantic willow trees growing around the ground water springs provide the perfect refuge for ducks, swans, and mallards. Beyond the castle drive there are splendid green lawns, with in the middle a charming round fountain, perhaps dating to the 1600s, and trees bounding the bottom part.
Giardino di Strassoldo di Sopra
Via dei Castelli, 23
33050 Strassoldo di Cervignano del Friuli (UD)