Giardino di Miramare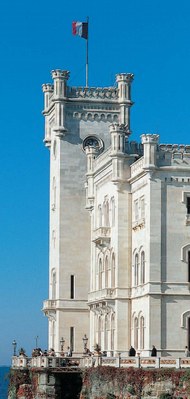 The park of Miramare was not created to be a majestic garden representing the family's important position but for private enjoyment. The archduke wanted to design a garden of moderate dimensions, in a virgin area suitable for experiments with arboreal plants. With the assistance of his reliable Bohemian gardener, Anton Jelinek, Maximilian alternated green lawns with waterways and informally-planted trees around small lakes. Winding, twisting paths connected the various areas giving an impression of a disorderly, savage environment when in reality it had all been carefully studied.
Even today when walking through the park you are fascinated and surprised by spectacular views of the sea, mysterious sceneries, and unexpected mirrors of water. The diversified species of plants and trees utilized to create the park come from different parts of the world: the native hornbeams, hollies, ashes, strawberry trees; the exotic giant sequoias, sabine pines, Monterey cypresses, Lebanon cedars, Araucarias from the southern Andes, and so forth.
Nestled here and there in the green park several buildings were erected, such as the small castle, a miniature copy of the main castle where Maximilian and his wife occasionally resided, or the chapel of San Canciano, which safeguards a special wooden cross. The cross had been commissioned in 1900 by Maximilian's younger brother, Ludwig Viktor, who had it carved from a piece of wood from the Novara ship on which Maximilian set sail to become Emperor of Mexico.
Next to the romantic areas, Maximilian also planned a formal area, an ornamental garden next to the castle facing the sea; only those who approached and docked at the small harbour - at the time only for the privileged - could admire this spacious, lush garden. A garden rich in exotic vegetation (not all species have survived) such as the palm and yucca trees, which harmonize with the rest of the garden and draw attention to the marble statues placed on tall columns.
Giardino di Miramare
Viale Miramare
34014 Grignano (TS)