Giostra dei castelli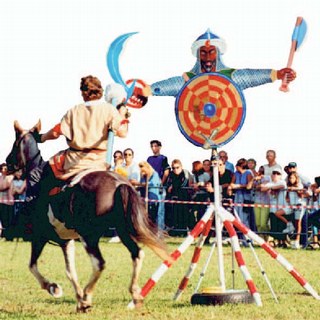 The festival, taking place on the second last Sunday of September, re-enacts the feat of a legendary Spilimbergo knight. In 1499 the Turks had invaded Friuli, looting and burning all the villages along their path; one night towards the end of September a valiant knight with a handful of soldiers entered the Turkish encampment and killed many enemy soldiers. When the Turks became aware of the attack they had sustained during the night they were overcome with fear and fled the Friuli region.
In memory of this event Torre holds a tournament where over twenty knights from different areas of Friuli participate. After various displays of skill and ability the knights have to strike a puppet representing a Turk. The eight best knights take part in the final round of the tournament to determine the champion.
In the area which surrounds the tournament grounds a fascinating Medieval market place is re-created. The arts and crafts from those long ago times come back to life, sword fights are enacted by skilled fencers, bowmen and acrobats thrill onlookers and a solemn parade in period costumes crowns the event.
Giostra dei castelli
Via Piave, 54
33170 Torre di Pordenone (PN)
Telefono: 347 4591856