Rievocazione storica della Macia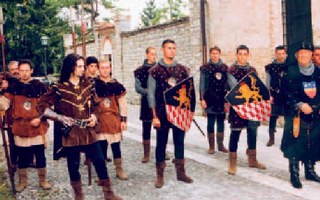 The Macia was an antique unit of measurement used in Spilimbergo to measure the length of fabric, just under 70 centimetres. If you go to the city loggia you can see it engraved in one of the columns. In the loggia there is also a depiction of the menorah, the Jewish candelabrum with seven branches, which can still be seen today, a symbol of the agreement between the Counts of Spilimbergo and the Jews living in the area regulating the commerce of fabrics. On 14, 15, and 16 August to relive these unique moments of history the town celebrates the magnificent Historical Re-enactment of the Macia with the presence of nobility in period costumes, knights and squires, the bourgeoisie, artisans and commoners. Each group with their large, colourful banner. The antique arts and crafts are also brought back to life to the joy of both young and old. The merry festival comes to a close with an ostentatious procession in honour of the Lords of Spilimbergo.
During the lively festival curious, antique dishes are prepared for the occasion following original Medieval recipes. For those less adventurous delicious modern dishes can be relished in the Da Afro tavern, the Al Caminetto trattoria-restaurant or the fascinating La Torre restaurant, all located in Spilimbergo. The Al Bachero trattoria-restaurant is worth visiting for its rustic ambience and excellent Baccalà in umido (Salt fish stew). For those who want to sip fine local wine in an enticing atmosphere Alla torre orientale enoteca is a must.
The Castle of Spilimbergo can be reached by public coach services provided in nearby towns.
Rievocazione storica della Macia
Palazzo di Troilo
33097 Spilimbergo (PN)
Telefono e fax: 0427 2274


Dal 14 al 16 agosto