Rievocazione storica in costume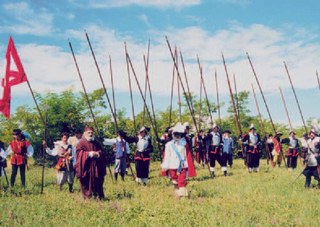 On the second Sunday of July two very important historical events are remembered in Palmanova: the Fiest of the Most Holy Redeemer (Festa del SS. Redentore), patron of Palmanova, and the Historical Re-enactment. The historical re-enactment keeps the memory of an important event alive which took place in July of 1602, when Gerolamo Capello, Venetian governor of Friuli, raised the Venetian flag in the centre of the town square.
Today the resplendent atmosphere of 400 years ago is recreated by hundreds of people flaunting precious period costumes, gallant knights displaying tall helmets and shiny armour. But it doesn't stop there; noblemen and coquettish damsels participate in graceful court dances, knights show off in horse parades, while halberdiers and pike men demonstrate typical weapons from Medieval times, re-enacting military assaults and manoeuvres. Every thing adds to the exciting moment which culminates in the raising of the huge Flag with the image of the Lion of St Mark. But as the sun begins to set the joyous festivities reluctantly come to an end, and in the dim light of flickering lanterns the huge flag is lowered.
In the fortress city of Palmanova hotel accommodation is available and wonderful restaurants and enoteche offer fine eating and wines in characteristic ambiences.
Rievocazione storica in costume
Borgo Udine, 4
33057 Palmanova (UD)
Telefono e fax: 0432 929106


Seconda domenica di luglio