Museo della terra dei nove castelli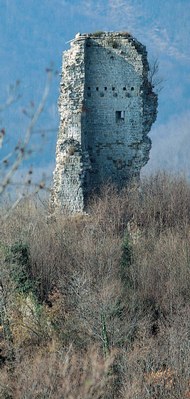 The Museum is situated in a quiet location just outside of the village centre, surrounded by a beautiful natural environment; ruins of local castles are clearly visible on the hills lying at a short distance away. The Museum collection includes items found in the nine castles that once stood in the Attimis area; together with ancient documents, information panels, scale models and reconstructions of castle interiors, they offer an insight into the culture and daily life in a Medieval fortress. The educational tour of the Museum is divided into eleven sections and takes into account the various elements of Medieval society, such as architecture, minting (visitors can try their hand at minting a perfect imitation of a Medieval coin), agriculture, defence, and everyday home life.
The tour opens with an insight into the work that archaeologists and historians carry out to reconstruct past events through objects and written texts. The third room, known as «Sala dell'ottagono» (Octagon room), easily captures the attention of the visitors: eight vertical displays are laid out in a circle, resembling transparent lit-up columns forming an octagonal-shaped tower.
If the ground floor is characterized by a traditional approach to museum display, the first floor houses an altogether different kind of exhibits. Here visitors can step back in time and walk about reconstructed castle interiors, enlivened by a Medieval soundtrack and atmospheric lighting. A wood and iron balcony, apparently suspended in mid-air, makes one think of a drawbridge; outside of a large window, almost a window onto the past, the landscape appears to have totally escaped modern influences, looking exactly like it must have done in the Middle Ages. Entrance to the remaining rooms is guarded by the Cavaliere di Soffumbergo, a statue of a Medieval knight wearing an antique suit-of-armour; inside other types of rooms are recreated, filled with carefully-reconstructed objects and fittings.
Museo della terra dei nove castelli
Via Principale, 99
33040 Attimis (UD)