Sala del castello di Udine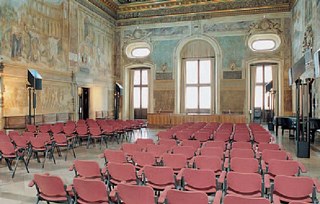 In the heart of Udine, on top of a Morenic hill, stands the Castle of Udine proudly dominating the urban hubbub below. Other ancient buildings are situated next to the castle such as the precious Romanesque Church of Santa Maria, the Casa della Confraternita and the Casa della Contadinanza. Inside the Casa della Contadinanza, once housing a Friulian peasantry council, there is an enoteca where you can savour flowery white and rusty red wines together with samples of fine, typical Friulian products. The Casa della Contadinanza is also available for private parties. In the city other excellent bars, restaurants, enoteche and hotels can be found. Udine is serviced by a network of city buses, coaches and trains.
The Salone del Parlamento (Parliament Hall) reception hall is placed on the first storey of the castle (26x13x10m). Access to the hall is by means of six entrances, two of which are direct: one is reached from the spacious courtyard by climbing imposing stone steps; the other is internal and reached by climbing a stately flight of stairs.
Upon entering the hall you are overcome by its spaciousness and regal decorations, dating from the early 16th century. All of the walls have been beautifully frescoed, while the elaborate wooden ceiling has been embellished with gilted frames and precious paintings. The walls are adorned with numerous coat of arms, spears and impressive 17th century swords; the hall has one emergency exit and is heated. Illumination is provided by floor lamps. It can seat 200 people, there is a table placed at the disposal of speakers for conferences, the lighting system is adjustable. There are modern, heated bathrooms. The reception hall is available year-round except for when municipal functions are being held.
There are numerous adjoining rooms housing the castle's picture gallery, all heated and meeting modern standards of construction. The educational hall (13x5.5x3m) is placed on the ground floor of the castle and has three entrances; one of which is external, including an emergency exit. To enter the hall there are no steps and it is heated.
It has been restored to modern standards with stone flooring and candid white walls adorned with engravings including an antique panorama of the city. Neon lights in the false ceiling illuminate the room.
It can seat 50 people, there is a table for speakers, the lighting is adjustable. Close to the hall there are modern, heated bathrooms. It is available year-round except when city functions are being held. From the hall there is a view of the entrance to the old prison, which can offer a unique experience to visitors.
Sala del castello di Udine
Piazzale del Castello
33100 Udine (UD)