Sala del castello di San Giusto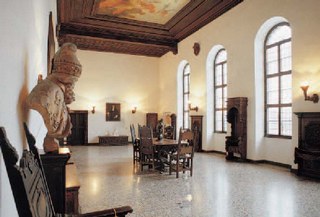 The Caste of Trieste is situated on St. Giusto hill in the heart of the city. In front of the church of St. Giusto lie Roman remains of great historical and archaeological interest. It can be reached from the train station by bus, line number 24. In the vicinity of the castle there is a restaurant and bar; other restaurants and hotels can be found at the foot of the hill.
Inside the castle complex there is s building called the Casa del Capitano (Captain's house) where the Caprin reception hall (14.5x6.4x5m) is placed on the first storey. Access to the hall is by means of a flight of stairs and through one sole doorway.
The hall has been elegantly decorated with original antique furniture and works of art purchased by the city from the heirs of Giuseppe Caprin (1843-1904). The interior decorations, originally acquired by Giuseppe Caprin in Venice, are composed of Venetian furniture and works of art from the 16th, 17th and 18th centuries. It has beautiful Venetian terrazzo flooring and an elaborate wooden ceiling adorned with a painting by Andrea Celesti (1639-1700) which represents the "Triumph of Venice". The hall can seat 60 people with an overall capacity of 80 people. It is equipped with an adjustable lighting system.
The hall adjoins an anteroom (4x6.5x3m). There is a modern, unheated bathroom. Since the reception hall is not heated it is available from May to October during the opening hours of the Armeria Museum.
Sala del castello di San Giusto
Piazza della Cattedrale, 3
34121 Trieste (TS)