Sale del castello di Susans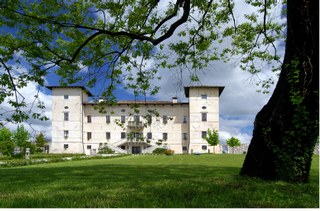 The architectural style and layout of Susans Castle are still those requested in 1636 by Count Fabrizio di Colloredo. Raised and educated at the court of Ferdinand I, the count decided to have a splendid Medici-style residence built over the ruins of medieval construction.
This was how this "Tuscan villa" came to built, to grace one of the most beautiful areas of Friuli.
The Colloredo family lived in this splendid palace for over there centuries until the end of the First World War.
The 1976 earthquake caused severe damage to the castle; only its particular shape and thick walls saved it from collapse.
The castle's symmetric layout, reinforced with towers at the four corners, proved to be a particulary effective anti-earthquacke shape.
Now restored to its former splendour, Castle Susans encompasses broad spaces and has a number of salons, of different sizes, furnished with period furniture, paintings and prints, making it the ideal venue for particularly important events, such as weddings, banquets, conferences and high-level meetings.
From the top of its hill, Susans Castle commands a truly breathtaking 360° view across the whole of Friuli.
The beauty of the panorama is mirrored in the castle's interior with its impressively elegent rooms, furnishings and fine tableware.
Castle Susans has been furnished with care and elegance throughout, including its most prestigious areas such as the four towers, which have been converted into exclusive guest suites.
In each room of the castle there is a traditional, solemn atmosphere that blends harmoniously with the discreet yet warm and welcoming furnishings, creating a uniquely fascinating setting.
Sale del castello di Susans
Susans
33030 Majano (UD)
Telefono: 0432 948090 Fax: 0432 656611
E-mail: info@castellodisusans.com