Sala del castello di Sopra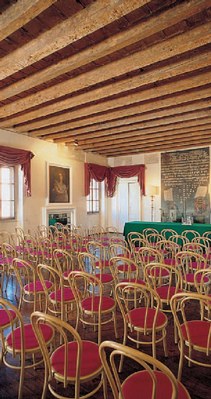 The Castle of Strassoldo di Sopra can be reached by coach services provided in nearby towns or by train. For fine eating you can go to the Al Cavallino restaurant; for traditional yet delicate food you can go to the Al Campanile restaurant in Scodovacca. For wine lovers the Ai Provveditori enoteca in Palmanova offers a selections of quality wines. Overnight accomodation is available at Strassoldo at the Vicinia of the Castello di Sopra, offering Bed&Breakfast accomodation, or at the Foresteria (guest-house), situated behind the chapel of San Nicolò, or else at the Villa Vitas agritourism-inn in Via San Marco. Delicious, tasty food can be enjoyed at the Casa Bianca agritourism-restaurant or at one of the hotels at either Palmanova or Cervignano.
The Salone degli Imperatori (13x7x4m), named for the portraits of emperors which decorate the walls, is the most important reception hall. The Salone, which is placed on the first floor, can be accessed from the main entrance of the castle by a splendid staircase. Another doorway at the top of stairs leads into the hall. Both entrances and the stairs meet modern standards of construction.
The reception hall is heated by fireplaces and stoves. The atmosphere is full charm with its wooden flooring and ceiling, its partly frescoed walls and its valuable antique paintings. Uniform lighting is provided by carefully placed spotlights. The hall can hold up to 190 people, it is equipped with an adjustable lighting system and a table for use at conferences or meetings. There are heated bathrooms adjacent the hall. Six other minor halls, also heated, are available for banquets, bringing the overall seating capacity to 230 people. Available year-round.