Halls, castle of Spessa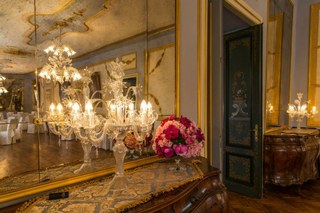 The Castle of Spessa is situated in a charming hamlet where some excellent food can be enjoyed at the La Tavernetta restaurant. Other bars can be found in the village of Capriva which is not far from Spessa. A larger selection of restaurants and hotel accomodation can be found a short distance away in Cormons. Spessa can be reached by making reservations with the coach service provided in Capriva.
The reception hall (12x8x3.5m) is placed at the heart of the castle. It is heated and access is from other rooms through three doorways, in accordance to modern construction standards. There are neither stairs nor an emergency exit.
The herringbone-patterned hardwood flooring and the splendid large mirrors decorating the walls of the hall create a refined ambience. Illumination is provided by an elegant four-lancet window, a large, exquisite chandelier made of Murano glass and matching wall-fittings. There is a table placed at the disposal of a speaker for conferences or meetings. The hall can seat 70 people with an overall capacity of 90 people. The lighting system is not adjustable. Modern, heated bathrooms are next to the hall. It is available year-round.
There are three other adjoining rooms: two rooms (8x5x3.5m) and a dining room (10x7x3.5m), all rooms are heated and meet modern construction standards. The first two rooms can hold 20 people each, the latter 40.