Giardino di Rocca Bernarda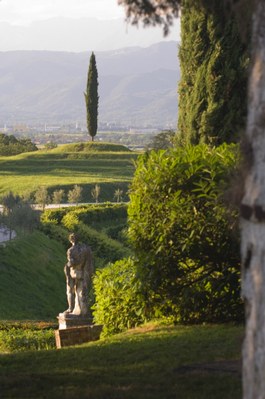 To the eyes of a visitor the Castle of Rocca Bernarda appears to be a stronghold built for defensive purposes. In a letter sent by the nobleman Jacopo of Valvason Maniago to the Council of the magnificent Community of Cividale it is clear that in reality it was erected to "adorn our hills, and to give pleasure and comfort to me and my friends", thus assuring the community that the castle was not intended for military purposes. From the cultural influence that the Valvason Maniago brothers, Jacopo and Bernando, had on Friuli in the 1500s it is evident that the castle was indeed a place for festive celebrations with friends, hunting excursions and joyous literary encounters.
The only information that we have regarding the green area surrounding the castle refers to the vineyards which produced exceptionally superb wines. Even poets celebrated these fine wines in their poems and on several occasions they were donated to the Venetian governors and to the Emperor Charles V. The formal layout of the garden which adorned the courtyard of the castle probably dates back to the 1500s. Unfortunately today it has almost completely disappeared but will probably be restored to its original form along with the restoration of the castle, which has already begun.
For over 400 years a noble cypress has been proudly guarding the entrance of the stronghold; an officially-recognized historical monument. But there are many other trees to admire, informally planted on the estate, such as two-century-old cedars of Lebanon, olive trees, hornbeams, and arbor-vitaes. To delight and surprise visitors, elegant 18th-century statues were placed at random among the trees.
Giardino di Rocca Bernarda
Via Rocca Bernarda, 27
33040 Ipplis di Premariacco (UD)