Palio donna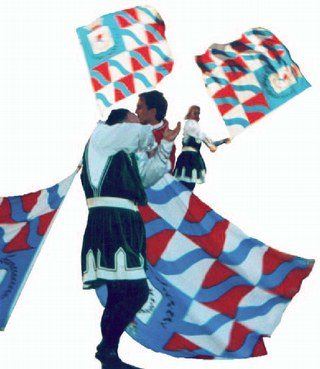 The palio (tournament) is an exhilarating event held on the second Sunday of September. The evening before the tournament an auspicious Medieval dinner is given in every borgo (city quarter) which participates in the tournament along with the other contenders: delegations from other historic cities and from abroad. The sumptuous dinner is enjoyed with melodious music in the background. To participate to this special dinner advance reservations are required. For less ceremonial dining Udine offers a variety of enticing alternatives: Ai Frati, alle Volte, Al Vitello d'Oro, L'osteria dei Beneandanti, and La Madonna are just a few of the wonderful restaurant you can choose from.
The Paliodonna is a women's only tournament which dates back to 1375, when the borgo of Grazzano obtained permission to organize a horse-riding competition restricted to women only. Actually the competition begins on Thursday and continues up to Sunday morning where the female jockeys from the different borghi, the historic cities and the delegations from abroad go through preliminary trials in order to qualify for the grand tournament.
The grand tournament is then held on Sunday afternoon with the best jockeys from each group participating. Two prizes are awarded: one for the competition among the borghi, the other for the grand competition. The prizes consist of two paintings executed by two famous artists representing the theme of women and horses.
Saturday afternoon a magnificent procession takes place in the heart of Udine which includes the participants of the competition and nobility dressed in period costumes.
Palio donna
Piazzale Chiavris, 11
33100 Udine (UD)
Telefono e fax: 0432 547422


Seconda settimana di settembre