Alla scoperta della fortezza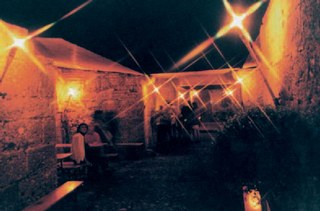 The ancient Fortress of Osoppo comes vibrantly to life during the weekend of the festival with history, wines, gastronomic delights, and nature: there are kiosks full of typical products, samplings of delectable foods at a buffet arranged in the Casa del Tamburo and live music.
At the Castle Savorgnan, near the Fortress, an antique-style tavern is set up where you can savour fine wines and taste enticing new foods. To delight the visitors there are groups of people in period costumes, joyful minstrels and playful jesters. At sunset torches light up the castle grounds and also the street which leads to the Castle. In addition on Saturday and Sunday there are free guided tours of the Fortress, including three gun powder magazines and two caves.
Osoppo can be reached by public coach transportation provided in nearby towns. During the festival, which is held on the second weekend of September, a shuttle bus service is available to help visitors reach the festive area at the Fortress. And if you feel like trying some more local specialities, two restaurants nearby, Dreussi and Da Min trattoria-restaurant, offer wonderful typical Friulian dishes.
Alla scoperta della fortezza
Via Divisione Julia, 1
33010 Osoppo (UD)
Telefono e fax: 0432 974161


Secondo week-end di settembre