Castello di San Floriano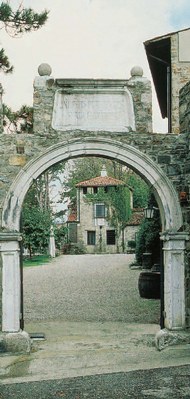 The Castle of San Floriano can be reached by coach services provided in nearby towns.
The castle, situated on a hill overlooking the surrounding valley, and the charming hamlet are part of a well-structured complex which includes a Golf Club. The restaurant, located inside the ancient castle dwelling, is open only on week-ends, reservations with a minimum of 12 persons must be booked in advance.
The restaurant serves impeccable dishes based on traditional local ingredients which change with the season.
For an unforgettable experience you can partake of the restaurant's famous Medieval banquet which is organised periodically (advance reservations required). A typical Medieval menu includes all of the following: sopressata di teste di cinghiale (Wild boar pressed salami), caso et cipolle (Cheese and Onions), menestra gialla imperiale (Yellow soup Imperial-style), gigotto de porco (Leg of ham), frictata de herbe (Frittata with wild herbs), fasciani arrosto con le loro penne (Pheasant roasted with their feathers), Bread with raisins, Home-made Cakes and Puddings, and Fruit baskets.
Castello di San Floriano
()
Telefono: 0481 884274 Fax: 0481 884856
E-mail: www.castelloformentini.com
orario della segreteria: da mercoledì a domenica 09.00 - 17.00